Two strengths of spread processing
Shelf life
precote® has a shelf life of four years, which is longer than other products.

This product can be stored for a long period as inventory, helping reduce waste and cost.
Supporting tip processing
Our spread processing equipment can perform tip processing for each thread. In addition, no additional cost is required even for spread processing for tips.
Furthermore, our equipment supports detailed specifications for spread processing for threads.
Product Lineup
About reactive (fixed-type) and non-reactive pre-coating
Reactive (fixed-type) pre-coating
When a screw is fastened, the adhesive begins to harden to fix it.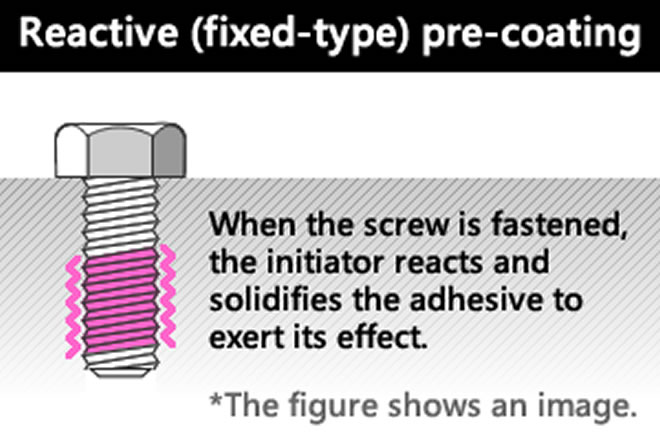 With this spread processing method, after the screw is fastened, the adhesive solidifies to fix it.
Because the curing agent in the adhesive is microencapsulated, the part can be stored after the adhesive is applied and dried.
The curing time after fastening needs to be taken into account. The curing time varies depending on the product.
The loose stopping effect is excellent while the screw is being fixed, but the effect is lost after the occurrence of breakdown torque.
Because the screw is fixed by adhesive, it cannot be reused once removed.
Non-reactive pre-coating
The non-reactive pre-coating has a variety of effects as well as an anti-loosening effect.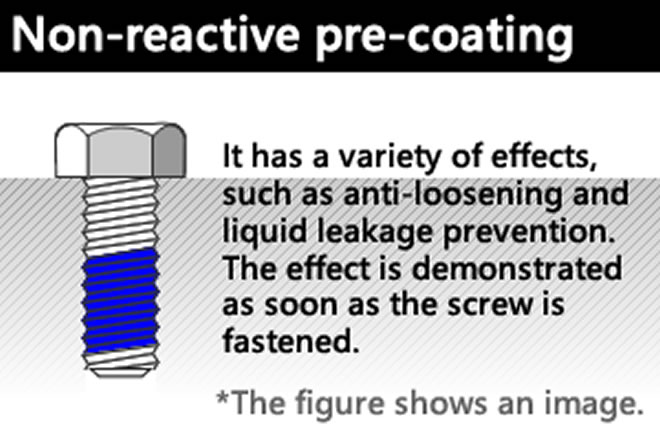 This spread processing method uses nylon resin, acrylic resin, and powder coating.
It allows processing that demonstrates effects other than the anti-loosening effect, such as liquid leakage prevention, baking prevention, and masking of threads.
The screw can be used repeatedly because the nylon resin loose stopper (F-LOCK®) does not harden.
The effect is demonstrated as soon as the screw is fastened.
This type of pre-coating has a longer shelf life and higher preserving property than the reactive one.
RoHS Directives and REACH Regulations
All of our spread processes comply with the RoHS Directives and REACH Regulations, which restrict the use of certain hazardous substances in the European Union (EU).
Please feel free to contact us for safety and technical information.
ISO Certification
The EMANAK Group has obtained ISO 9001 and ISO 14001 certifications at all of its manufacturing sites.