Mechanical Coating

(Z COAT)

Performs cold dry plating capable of enhancing the corrosion resistance of high-strength bolts and castings.
Dry plating

No hydrogen embrittlement

Nonferrous
Plating processes are often referred to as wet plating because the surface treatment is performed using a liquid agent.
The mechanical coating (Z COAT), however, differs greatly from other plating processes in that it is dry plating performed without using a liquid agent.
Not only does the mechanical coating eliminate the risk of stress reduction due to heat and hydrogen embrittlement, but it can also provide a high-level anti-corrosion effect for products,such as high-strength bolts and castings, that were difficult to plate.
Try this for products that are difficult to plate.
Mechanism of Mechanical coating (Z COAT)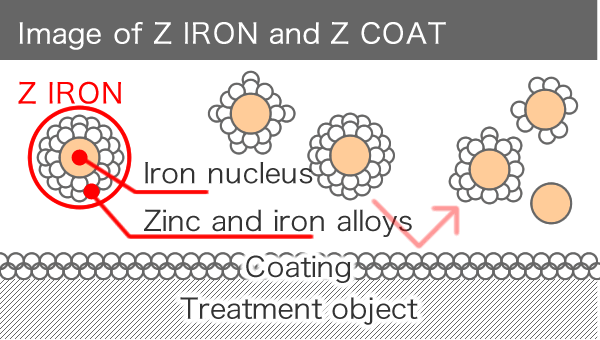 Mechanism of Mechanical coating (Z COAT)
The iron-zinc alloy powder is sprayed onto the treatment object at high speed to form a zinc alloy coating. The mechanical coating has been certified as an anti-corrosion surface treatment for automotive parts capable of treating both ferrous and nonferrous materials.
Six features of Mechanical coating (Z COAT)
Point
1
Capable of treating both
ferrous and nonferrous materials.
Point
2
Performs dry plating at room temperature,
causing no stress reduction by heat.
Point
3
Involves less acid treatment and electrolytic reaction, causing no hydrogen embrittlement.
Point
4
Requires no sealing of the sintered part.
Point
5
Mechanical properties improved
by the peening effect.
Point
6
Environmentally friendly surface treatment performed in the treatment process without discharging wastewater.
High corrosion resistance is achieved by applying an organic and inorganic hybrid coating after applying the mechanical coating (Z COAT).
Processing parts suitable for Z COAT
Particularly suitable for high-tension parts, such as fasteners (bolts, nuts, brackets, and tapping screws), chains, springs, and sintered parts.
Application fields of Z COAT processed products
Automobiles (mainly outdoor), civil engineering (bridges, ports, railways, and nuclear power plants), and buildings (trusses)
The mechanical coating is, for example, effective as a lubricant base for plastic processing of cold forged parts.
SUS and titanium
can also be processed so that
corrosion resistance is provided.
Reduction of plastic processing
pressure enables longer
life of dies.
This process is also friendly
to the construction period and environment
because it has a short process and does not
discharge wastewater.
Contact the following for consultations and inquiries about Mechanical Coating (Z COAT)
We propose the optimal surface treatment for you.
Please feel free to contact us.
1

We have the know-how and experience to propose the optimal combination of surface treatments according to the operating environment, corrosion resistance, and cost.

2

We offer a wide range of lineups for foundations, base coats, and top coats to meet your needs.
Responsible personnel:Yoshida
EMANAK WEST JAPAN Co., Ltd.
Kadoma Plant
26-3 Yanagidacho, Kadoma-shi, Osaka 571-0038 Japan