GEOMET®

Provides a completely chromium-free, environmentally friendly water-based anti-corrosion treatment.
Chromium-free

Corrosion resistance
Mechanism of GEOMET®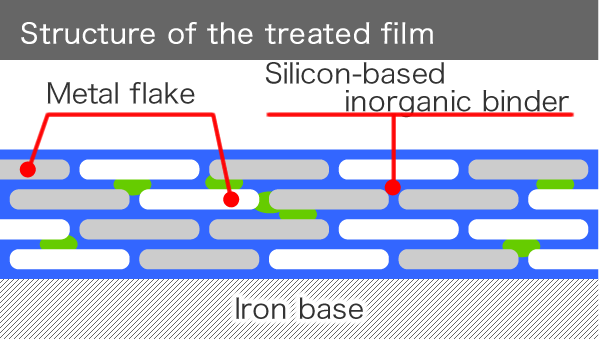 Demonstrates a high anti-corrosion effect with a thin film of about 8 μm.
The GEOMET® coating has a silver metallic appearance. Layered metal flakes are bonded by inorganic binders. With a membrane pressure of 8 μm, the bolts and nuts fit well.
Eight features of GEOMET®
Point
1
Coating performed in environmentally friendly manufacturing processes with completely chromium-free water-based chemical.
Point
2
Offers excellent resistance to salt spray and cycle testing.
Point
3
Offers excellent heat and corrosion resistance without containing crystalline water or crystalline resin, which easily causes thermal degradation.
Point
4
Prevents galvanic corrosion (contact corrosion between different metals) with aluminum.
The GEOMET® coating has a corrosion potential close to that of aluminum and a controlled zinc sacrificial protection, which reduces the wear of zinc metal and prolongs the protection against aluminum. It is also effective to prevent pitting corrosion of aluminum by treating stainless steel based on the surface corrosion potential of stainless steel.
Point
5
Offers an excellent attaching property.
GEOMET® treatment has a high anti-corrosion effect by creating a rustproof coating on the inner surface of pipes, where zinc plating does not work.
Point
6
There is no fear of hydrogen embrittlement.
Point
7
Processable for various metals.
GEOMET® treatment can be performed for a wide range of metals, including iron, cast iron, stainless steel, aluminum, and sintered metals. The combination with PLUS Series enables surface treatment with features that were difficult with conventional surface treatment.
Point
8
Melamine alkyd coating and powder coating can be applied on the GEOMET® treated surface.
The combination with bottom and top coats provides a higher anti-corrosion function than the surface treatment with GEOMET® alone.
GEOMET®

Zinc alloy plating
GEOMET® treatment standard
ISUZU
ISC-B22-0038
HONDA
D2008
TOYOTA
TSH7702
NISSAN
M4601
SUBARU
TS430-9-9
MAZDA
MFS CG 311F
GM
GM6173M GM3359 GMW14 GME00 255
FORD
WSS-M21P39-A1 A2 A3 A4 A5,
WSD-M21P13-A1
WSS-M21P49-A1 A2 A3 A4 A5,WSS-M2P178
Chrysler
PS-9666 PS-5873L PS-5873P PS-5873-Black
Daimer
DBL9440,40 DBL94440,50
VW
TL193 TL245
BMW
GS 90010
| | |
| --- | --- |
| RENAULT | 01-71-4002/F,01-71-002/-J |
| FIAT | Capitolato |
| VOLVO | VCS 5737,29. STD 5737,2 |
| OPEL | GME 00255 |
| IVECO | 18-1101 |
| BOSH | 204 Y82 119-Type1,N67F 827 04 |
| DANA | ES-PS-0618 |
| TENNECO | PS-152.09. OS-152.09A |
| TRW | TS 2-25-60-Class C.D.E.F |
| JIS ISO | JIS B 1046 ISO 10683 |
Contact the following for consultations and inquiries about GEOMET®
We propose the optimal surface treatment for you.
Please feel free to contact us.
1

We have the know-how and experience to propose the optimal combination of surface treatments according to the operating environment, corrosion resistance, and cost.

2

We offer a wide range of lineups for foundations, base coats, and top coats to meet your needs.
Responsible personnel:: tomita
EMANAK WEST JAPAN Co., Ltd.
Kadoma Plant
26-3 Yanagidacho, Kadoma-shi, Osaka 571-0038 Japan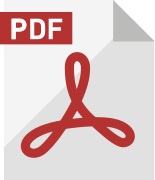 Click here to download the GEOMET® brochure.

Download PDF
GEOMET® is a registered trademark of NOF Metal Coatings Co., Ltd.